Do you love vaping? Are you interested in trying CBD? If so, then this post is for you! In today's blog post, we will be talking about CBD vape kits. We'll discuss what they are, how they work, and why you might want to consider using one. We'll also provide a few tips on choosing the best CBD vape kit for you. So, if you're ready to learn more about CBD vape kits, keep reading!
What Is A CBD Vape Kit?
A CBD vape kit is a collection of products designed to work together to vape CBD. Typically, the kit will include a CBD vape pen, CBD vape juice, and a charger. However, some kits include CBD concentrates or CBD oil.
What Type of CBD Vape Kits Are There?
Even though the ultimate goal is to vape CBD, there are many different products you can use to get you there. For example, you can find disposable CBD vape pens that are only meant for one use. There are also battery-operated, push-button, and draw-activated CBD vapes. But the mechanism isn't the only part of CBD vape kits that come in multiple forms.
CBD vape juice is also available in various flavors and CBD concentrations. CBD vape juice is a liquid that goes in your CBD vape pen to make the vapor. Some devices allow you to fill them with vape juice yourself, while others are pre-filled.
Lastly, you'll want to ensure that your vape kit comes with the right liquid inside. We'll take a closer look at all these considerations below!
Draw-Activated Vapes
Draw-activated vapes are the newest type of CBD vape kit on the market. They work by drawing air through the device rather than pressing a button, making them easy and discreet to use.
When you draw air through the device, it causes the battery to heat the coil. This, in turn, causes the CBD vape juice to heat up and create vapor.
There are a few reasons why you might want to consider using a draw-activated vape kit:
No accidental button-pushing while it's in your pocket/bag.
Since they don't require any buttons, they are perfect for people who have joint pain or trouble with motor functions.
Vapor generates as you draw, so there is no need to wait for it to heat up.
Button-Activated Vapes
Button-activated vapes are the most common type of CBD vape kit. They activate by pressing a button, which causes the battery to heat the coil and create vapor. They can be disposable, but many come with a screw-on cartridge (like ours at Hollyweed).
There are a few reasons why you might want to consider using a button-activated vape kit:
More powerful than draw-activated vapes.
Can come in a variety of different styles and colors.
Some have adjustable temperatures, which allows you to customize your vaping experience.
Requires less maintenance than draw-activated vapes.
Pre-filled CBD vape kits usually use button-activated vapes.
Disposable Vapes
Disposable vapes are a type of CBD vape kit that is only meant for one use. They are typically made of a single body (rather than a cartridge that unscrews) and are pre-filled with e-juice. Once the battery dies, you throw the entire device away.
Many people use disposables as their CBD vape starter kits because if they don't enjoy the experience, they can toss the device without feeling guilty about their purchase.
Other benefits of a disposable CBD vape pen include:
No charging is necessary; just open and start vaping (though disposables that with the option to be re-charged can be a bonus).
No cleaning or maintenance is required.
You aren't tied to one device.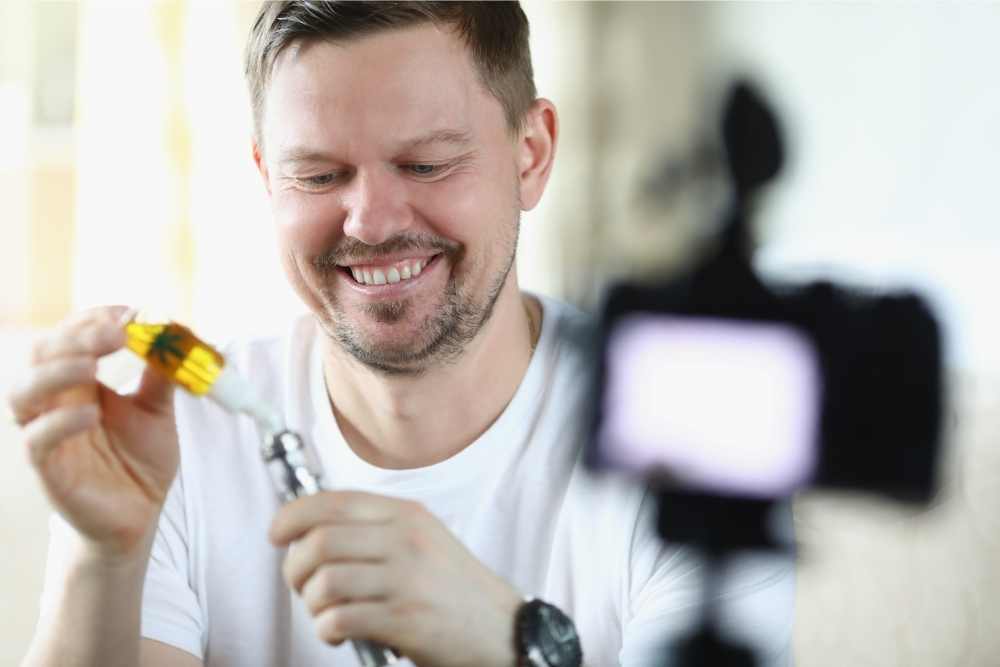 Refillable Vape Kits
Refillable CBD vape pens are the most versatile type of CBD vape kit. They allow you to use your own CBD vape juice, which gives you more control over your vaping experience.
A refillable CBD vape pen may come with a pre-filled cartridge or require you to fill its tank right out of the package. Either way, you get to determine the flavor and concentration each time you fill it up.
Refilling a CBD vape pen is easy. For most devices, you just need to remove the mouthpiece, fill the tank with CBD vape juice, and put the mouthpiece back on. Remember to follow the instructions on both your device's and the e-juice's packaging!
Benefits of refillable kits include:
You're not limited to using one liquid — you can choose the flavor and CBD concentration of your vape juice.
Since you buy the liquid in relatively large amounts, they may be more affordable in the long run than disposable CBD vape pens (depending on your vaping habits).
Cleaning and maintenance are relatively easy.
Vape Oil vs. Juice
There's a CBD pen out there for everyone, but there can be variety in more than just the hardware. Another thing to watch out for is the words different companies use to talk about CBD vape kits. The biggest one is oil vs. juice.
Some manufacturers call the stuff inside a cartridge "CBD vape oil" or just plain old "CBD oil." This outdated terminology can actually be harmful. Why? Because CBD oil, as most people in the industry know it, is strictly meant for swallowing or to put under the tongue, not inhaled.
When we at Hollyweed say "CBD oil" (or "tincture"), we're talking about hemp seed oil mixed with cannabidiol (CBD) extract. Oil is NOT for vaping CBD and should not be put in refillable CBD pens. This is because hemp seed oil is not safe to vape.
So if you shouldn't vape CBD oil, what should you look for? If it has "juice," "liquid," or "e-" in the name, you're probably on the right track. Some companies call it "CBD e-juice" or "vape juice," but "e-liquid" and "vape liquid" are also common. These are special formulations that are safe to heat and inhale as vapor. You can even make your own CBD vape juice at home!
What Vape Kit Is Best For You?
The ideal type of vape kit depends on your preferences and habits. Do you go through a lot of vape juice in a single day or wish to have extensive control over settings like temperature? A refillable tank may be for you.
More interested in hitting a fruity vape for about a week and then tossing it in the trash? You might do better with a disposable. But what if you just want a clean, simple, and affordable vaping experience without any bells and whistles? Luckily, we've picked out the best vape kit for most people. Read on to find out what it is!
CBD Vape Kit – Best CBD Pre Filled Cartridges
The overall best choice is the classic push-button battery + cartridge combo. They are simple, more sustainable than disposable vapes, allow for various flavors/concentrations, don't require clean-up or maintenance, and are affordable.
Simple
Sure, some devices let you control the temperature of your vape, but when's the last time you actually wanted that? For me, I just want to press a button, breathe in, and start feeling the soothing benefits of CBD.
Sustainability
Batteries are one of the most common sources of environmental damage in our waste. We should discard them in specially-designated receptacles, but we tend to simply toss them in the garbage.
When they wind up in the landfill, they decay, leak, and their chemicals soak into the soil, water, and air. When you hold on to your body and only replace the vape cartridge, you're basically recycling!
Mix-and-Match Flavors & Concentrations
One of the big advantages of a refillable vape pen is that you have flavor options, but then you're stuck with a large amount of that juice for a while. Instead, interchangeable carts let you try new tastes much more frequently.
No Mess or Maintenance
Another downside of refillable vape pens or tanks is the maintenance. While your buddy breaks out the pipe cleaners and specially-designed tools to swab their tank, you can just toss your old cart in the trash and screw in a new one!
Affordable
Big, bulky vaping devices may spit out some thick, sweet-smelling vapor clouds, but they also come with a price tag. For those who enjoy the simple life of delicious flavors and mind-body balance, you can get the best bang for your buck with button-activated battery + cartridge kits.
How To Use Your Vape Kit
There are many ways to vape CBD, and it all depends on what kind of device you have. As we mentioned, you can have a button or draw-activated pen, a refillable tank or a reusable battery, and some may even have a disposable product.
Let's start with the basics. Once you have your vape kit, the first place to start is with the instructions. They are often on the box, the packaging, or the company's website. Can't find any? No problem! Vaping is very straightforward.
Take a look at what you've got. Is there only one device (or does it say "all-in-one" on the label)? If so, you may be all set! Check to see if there are any buttons on the device. If so, press it for a few seconds, then inhale.
Get any vapor? If not, try pressing the button for even longer. Still nothing? If it still doesn't work, check if it's a rechargeable all-in-one. If so, charge the battery.  Try contacting the manufacturer if trouble shooting does not result in any improvements.
What if there are no buttons? You could have a draw-activated device. Simply put the mouthpiece to your lips and breathe in. If you don't exhale any vapor, you may have to inhale more forcefully or charge the device.
If there's a battery and a separate cartridge, simply open them up and screw the cart into the battery! Then press the button or inhale, depending on how the device works.
To fill up a tank, you'll definitely want to find some instructions. We said earlier that the most common method is to screw off the mouthpiece, but this might not be true for your device. If it isn't readily apparent and you can't find any instructions, get in touch with the manufacturer.
Why Choose Hollyweed
The best vape batteries, cartridges, and all things CBD come from Hollyweed! We use only natural, vegan ingredients, health-conscious recipes, and simple formulations. You won't find a plethora of additives and hard-to-pronounce chemicals in our vape carts, just two ingredients: hemp extract and terpenes (natural compounds from the hemp plant that provide flavor).
Hollyweed is also proud to provide many perks to our customers, such as 25% off all first orders and subscription products. That's right! You can subscribe and save to get a regular supply of top-shelf CBD for less than you'd normally pay. To make it even better, we have frequent sales of up to 50% off.
We know it's not polite to brag, but we're pretty proud of what our customers have to say about us. That's why we boast hundreds of outstanding reviews on TrustPilot and the Better Business Bureau. We pledge to provide the best possible experience for our customers, and we're proud to have so many satisfied customers.
Hollyweed also offers a 30-day money-back guarantee policy, so you can be sure that you're getting the best possible product. In addition, we offer fast-free shipping with every order so that you can get your CBD as quickly as possible.
But how can you be sure you're getting the quality we promise. We test every batch of products and have Certificates of Analysis (COAs) available for anyone to view. COAs are the results of the tests that third-party labs conduct, ensuring that the claims we make about our products are accurate.
We want to make sure that you have the best possible experience with our products, and we're always here to help. Luckily, at Hollyweed, you'll find great live customer service to answer questions and concerns.
Final Thoughts – CBD Vape Kit
Whether you're a first-time CBD vaper or an experienced smoker, there's a vape kit that will work perfectly for you. In this post, we've outlined the different types of vape kits and given you a breakdown of each one. We also gave you a few tips on using your vape kit and why Hollyweed is the best place to buy them. So what are you waiting for? Get started with your very own CBD vape kit today!